If you think window treatments can't be a focal point of a home's interior, you might want to think again. Take Roman shades for example. With so many Roman Shade Fold Styles to choose from, they're sure to be a defining feature of your space!
This content contains affiliate links. If you make a purchase after clicking a link on this page, we might receive a commission at no cost to you.
So, if you're planning on adding a significant personal touch (not to mention a sense of warmth and comfort) to your home, installing Roman shades on your windows is a very good start. Here are three reasons Roman shades are the perfect window covering to add to your home.
Some of the BEST Roman Shades on Amazon
Last update was on: October 24, 2022 6:46 pm
Timeless, Classic Appeal
Timeless appeal—that's what any other window treatment can't provide you the way Roman shades do. Dating back centuries to the Ancient Romans, these classic shades offer unparalleled elegance that goes well with any home design. And surely, this one's not going out of style anytime soon.
---
---
Roman shades are a must-have particularly if you're the type of homeowner who's not keen on replacing window coverings every few years or so. This type of shades come in a wide range of colors, textures, patterns, fabric materials and fold styles. So, you're sure to find one that will complement your home—for good and for long.
One of the BEST blackout roman shade fold styles on Amazon:
Cordless Roman Shades Window Blinds, White Black Premium Blackout Roman Window Shades, Custom Washable Fabric Roman Shades for Windows, Doors, French Doors, Kitchen Windows (1 Piece)
as of October 24, 2022 6:46 pm
The Top Roman Shade Fold Styles
Versatility is another great factor you can enjoy with Roman shades. They generally function using a pull cord system, stacking into horizontal folds at regular intervals when raised. Or, you can also pair your shades with motorized options for a cordless system.
But, there are many fabric fold styles you can choose from, depending on the final look that you want to achieve.
Flat Fold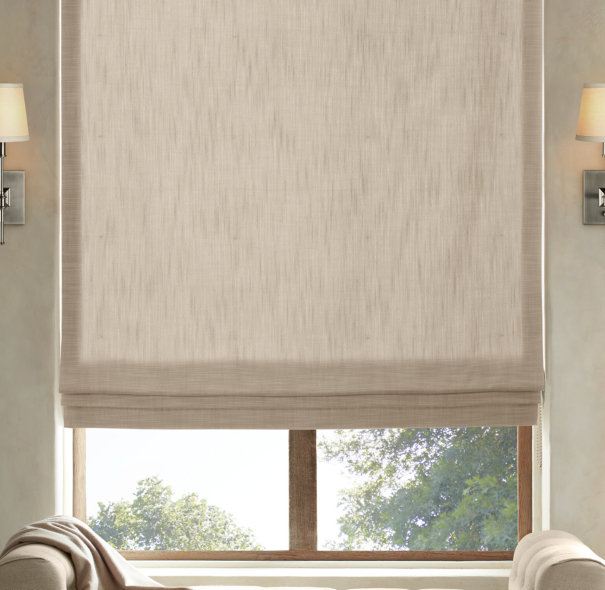 If you're going for a simple, minimalist look, this fold style is a good choice. Here, one solid piece of fabric with no seams lays completely flat against the window, that when raised, forms neatly stacked slim folds. This works great for shallow windows and for fabrics with large-scale patterns, which would otherwise look interrupted with multiple folds.
Relaxed Fold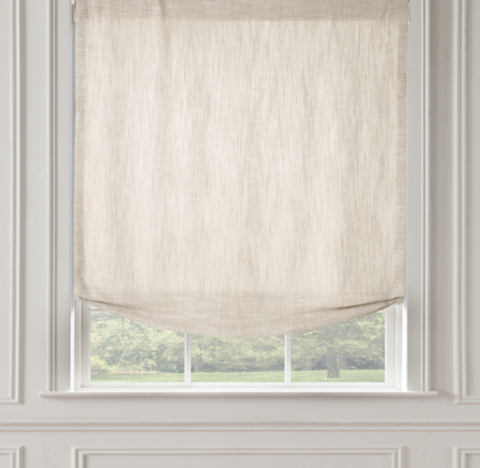 Want a softer look to your Roman shades? Then, the relaxed fold style is for you. Also called European fold, this creates less symmetrical folds that are so elegant—perfect for living and dining rooms for all your guests to see. When the shades are raised, a drooping, curved shape is created at the bottom of the fabric. With this style, it's ideal to use luxurious fabrics to even amp up the shades' elegance.
Hobbled Fold

Also called teardrop or soft fold, this traditional style is constructed with loops of fabric, that when lowered, show evenly spaced soft folds that give off an interesting waterfall look. This is great for spaces that need a little bit more privacy or a room darkening function. However, this style requires more window depth because of the extra volume of fabric used.
Knife Pleat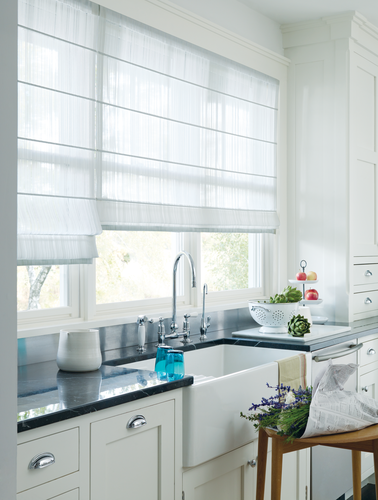 This fabric fold style is one that embraces strong lines. Here, rods are sewn into the pleats every about 10 inches so as to maintain crisp folds even when the shades are lowered. Like the flat fold style, knife pleat shades lay flat against the window, but the symmetrical pleats break up the rigid look.
One of the BEST light filtering liner roman shades on Amazon:
Roman Shades Window Shades, Grey Diamond Blackout Light Filtering Custom Window Roman Blinds, 10% Linen Fabric Roman Shades for Windows, French Doors, Doors, Kitchen Windows
as of October 24, 2022 6:46 pm
Light Filtering and Room Darkening Functions
Now, let's not forget that there's more than just decorative value. Roman shades also protect your home from harsh sun rays while providing ample natural light. Depending on the fabric material you choose, for example, linen, cotton, polyester or silk, you can either allow or block filtered light into your home.
Summary of Roman Shade Fold Styles
Regardless of your roman shade fold styles, these window coverings are effective in making your home more energy-efficient, as they can function as insulation. During winter, for instance, Roman shades made with heavier fabric can keep heat indoors, helping your family stay cozy and comfortable.
The tailored functionality of blinds plus the warmth and softness of draperies—that's what you get with Roman shades. This long-lasting and low-maintenance type of window covering is sure to add color, character and dimension to your space. So, are you ready to enjoy the many benefits of Roman shades in your home?
A few of the Roman Shade Fold Styles on Amazon:
Last updated on October 24, 2022 6:46 pm